---
Notes
Add notes about your injuries, blood pressure, diagnoses, allergies etc. and keep them all in one place. With the use of the Qure4u Notes page, you will be much better prepared next time you see your doctor.
To add a Note:
After logging in, first click on 'Record'. Then click on the 'Notes' tab, then on 'Add Note or File'.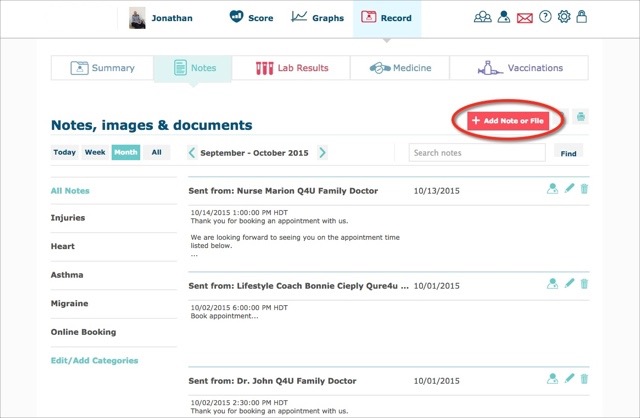 Once you click 'Add Note or File' a window will appear. In this window you first need to select the category you wish your note to be placed in. Categories help organize your notes efficiently.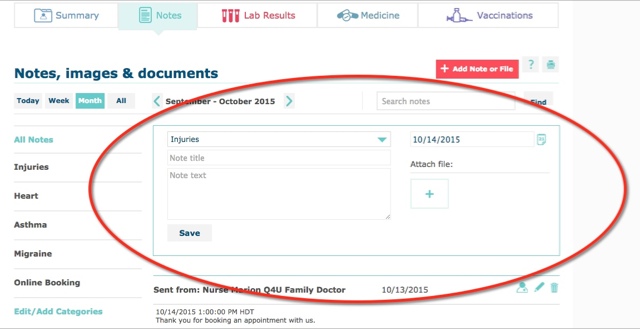 Below the 'category' dropdown in the window, space is provided for you to provide a 'Note Title' and in the textbox below that, labeled 'Note text', you can write your note.
When you add a note, today's date will show up as default. Next to the category dropdown you have the option to change the date if your note is from another day. Simply click the calendar icon and select the correct date.
Next to the 'Note text' box, you have the option to attach a file or photo by clicking on the plus sign.
When you finish writing your note click 'Save'. Your note will automatically be placed in the category you selected.
Editing or deleting a note:
If you wish to change the content of your notes click on the pencil icon to the right of the note.
If you wish to delete a note click the trash icon to the right of the note.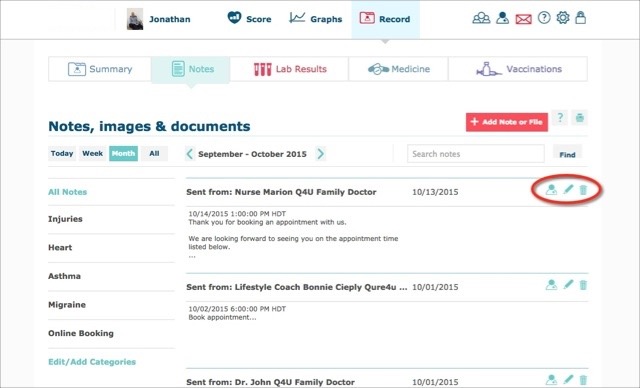 Sharing a note:
To share a note with your provider click the provider icon by the pencil and trash icon, next to the note you wish to share. A window will pop up with a list of your providers. Check the box next to the provider(s) you wish to allow access to the note and click save. Your doctor will then be able to see the note on your profile.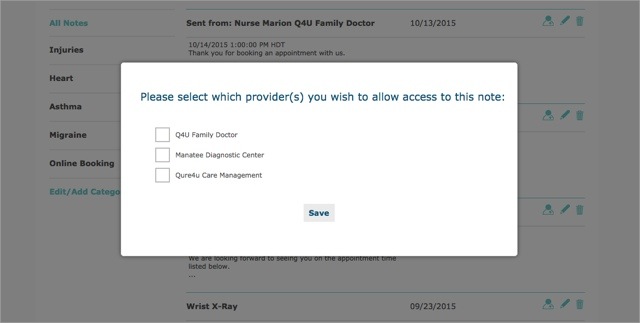 Ask a question
---
Email Us
Translate
---
Related Articles
---
{{'title.My+health' | translate}} {{'title.Notes' | translate}}