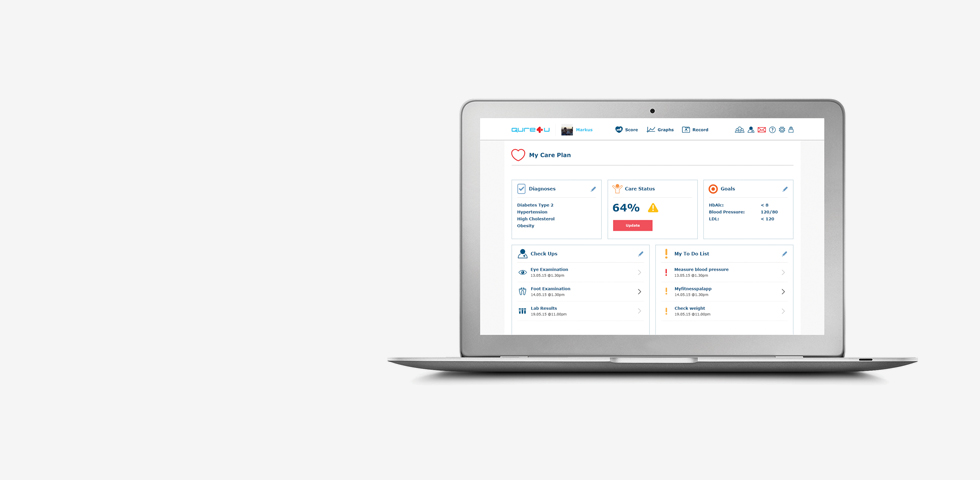 Monitor Care Status
Intelligent algorithms help identify patients at risk

If patients are not following their Care Plan,
or have vitals that are out of range, you will
automatically get alerted and know who to help.
Monitor your patients' care in between office visits
Qure4u is integrated with more than 80 different home-health monitoring devices and apps to enable patients to be able to monitor their health remotely and not have to manually input their data.

The data displays on easy-to-read health graphs, giving the patient a better understanding of their numbers. Individual goal setting enables patients to adopt a step-by-step approach to achieve better health.
If a patient requires closer monitoring, alerts can be set up if critical values fall out of a prescribed range. These alerts will be automatically routed to an assigned care coordinator's Follow-Up dashboard so that necessary measures can be taken.
All the patients data can be accessed and reviewed remotely. This makes it a very cost-efficient way to triage a patient population and direct your resources to the patients that more urgently need help.

Everything related to health, such as blood pressure, lung function, blood glucose, sleep patterns, pain levels, body temperature, nutrition and physical activity can be monitored via Qure4u.