---
Medication
The new Medicine list allows you to keep track of all your prescriptions and supplements in a clear, user-friendly list that includes the strength, dosage, what the medication is for, and how often you should take it.
Sign in to Qure4u and click on 'Record' and then on the 'Medicine' tab.
Adding medication:
Click on the red field labeled 'Add New Medicine' located on the right upper-hand corner.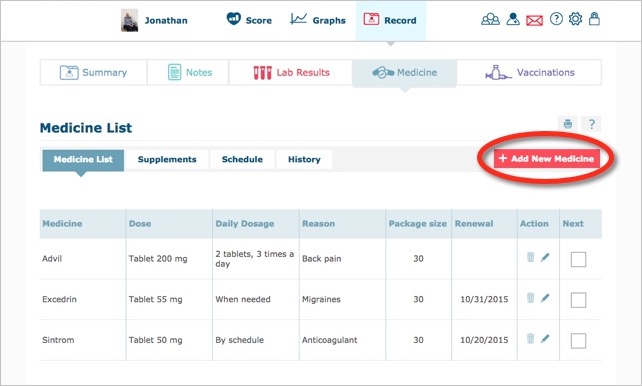 You will be able to write directly in the writing fields that appear on the screen. Fill in the name of your prescription.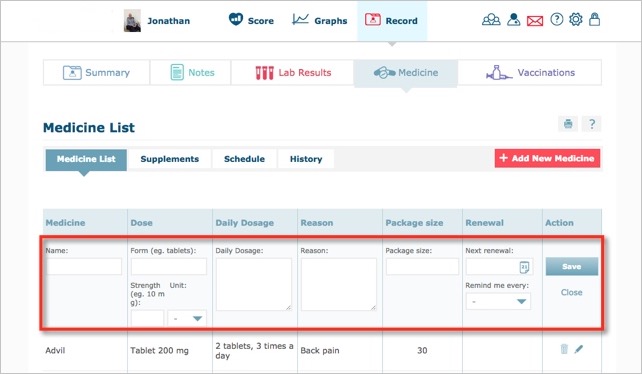 Setting Dosage amount, schedule and ailment:
If you are not sure what "Form" means, examples would be pills, tablets, capsules, inhalers, etc.
Strength is, for example, 2.5 milligrams. It is the amount of the medication that you take every time.
The next step is to specify how many times a day you take this particular medication. For instance, "2 tablets per day," or "2 sprays in each nostril every morning," etc.
Be sure to acknowledge if the prescription you are adding is not for daily use, we recommend that you put "as needed" if this is the case.
You then have to enter the reason for this prescription. Examples include back pain, allergies, or other issues such as hypertension.
After that, you are required to specify the packet size of your medication. For example "100 pills" or "300 ml."
Setting reminders:
In this section you can set the date for when it is time to renew your prescription. You can also set reminders; Simply choose how often you wish to be sent reminders. Every week, every 2 weeks, and so on.
Reminders can be set up individually for each of your prescriptions.
Please note that Qure4u does not automatically renew your prescriptions, but sends you a reminder email for when it is time for you to renew your medication.
After editing the information, click "Save."
Once you save a new medication, it will be automatically uploaded into your list in alphabetical order.
Deleting and editing your prescriptions:
Would you like to delete or edit a prescription on your list? To delete a medication or vitamin, click the trashcan.
If you wish to edit the data entered for a medication or vitamin, click on the pencil.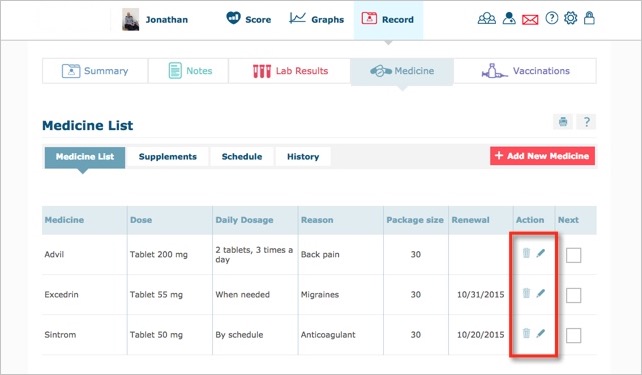 Ask a question
---
Email Us
Translate
---
Related Articles
---
{{'title.My+health' | translate}} {{'title.Medicine' | translate}}